Cellulite Treatment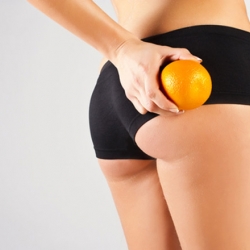 Cellulite is a problem seen in 8 of every 10 women who are weak or overweight.Cellulite occurs because of malnutrition and superalimentation, sedentary lifestyle, increasing of estrogen hormone. Cellulite is an aesthetic problem,is the dimpled appearance of the skin that some people have on their hips, thighs, and buttocks. Cellulite cause an "orange peel" appearance to the skin.
Cellulite can be treated with medical and technological methods. Medical methods are mesotherapy and carboxy therapy and technological methods are listed as Eximia HR 77, Vela Shape 3, AWT, LPG, Thermilift, V-shape and Caci quantum.
Cellulite Treatment with VelaShape
Velashape is an FDA approved technology and it affects both the deeper tissue and the upper layers of the skin. In this way, "orange peel" appearance of cellulite provides to be relieved.
Velashape is one of the most effective methods of massage, combined with radiofrequency and infrared ray energy. During application, the fat tissue is decreased and the orange peel appearance is got better. The number of sessions varies according to the degree of cellulite and effective results are usually obtained after 4-6 sessions.
Cellulite Treatment with V-shape
Vshape is a technology that uses radio frequency and ultrasound energy together. Regional slimming and cellulite treatments are taken very effective results by Vshape. Because of ultrasound technology, it ensures the requested energy is delivered to the right place. In this way, it differs from other methods. The skin gets vitality and innovation and the production of collagen increases, so that the fat tissue in the skin breaks down and tightening is supplied. The treatment is done in 20-30 minutes and the expected results are obtained after 4-6 sessions.
Cellulite Treatment with AWT
AWT is called Acoustic Wave Therapy, can be applied with minimal side effects and without pain. AWT provides a treatment solution to two major factors of cellulite, affect both connective tissue and fats with shock waves. A smooth appearance is obtained with shock waves. Sessions are applied twice a week and effective results are observed totally in three weeks.
Cellulite Treatment with Eximia HR 77
Eximia is a new technology that can perform the operations of 4 separate devices in a single system. At first, the skin is cleansed from dead cells and oxygen is provided. Opening the holes on the cell walls, fatty acids are provided to be thrown out with Laserporation. With the energy transmitted to the skin, lymph flow and blood circulation are accelerated. In this way, skin tightening, decrease in fat tissues and cellulite appearance and improvement is observed. 40% fat reduction is achieved in 7 days,with the application.
Cellulite Treatment with Mesotherapy
Mesotherapy is a non-surgical treatment, that is made by injecting to the skin with special needles. Specially prepared solutions are injected under the skin. These solutions include vitamins, minerals, antioxidants so rejuvenation is ensured. Effective results are seen after 8-12 sessions, Mesotherapy is applied once or twice a week.
Cellulite Treatment with Carboxy Therapy
Carbon dioxide is applied under the skin and it is called as carboxy therapy. The carbon dioxide gas enables the expansion of the veins, the increase of oxygen and the acceleration of the circulation. Hereby, burn fat and thinning are observed in the body area where it is applied. It is also one of the most effective methods in cellulite treatment.