HydraFacial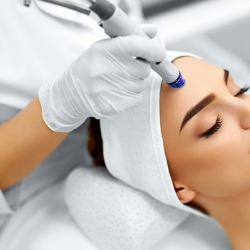 Nourishing the skin is the most basic need so you can have a healthy and beautiful looking. It is important to do the right and regular care of the skin, in order to have a healthy and shiny face. HydraFacial skin regeneration system is preferred all over the world and it provides to have a gloss and bright skin. Also it contains all the treatments that the skin needs in one time .
HydraFacial is proper for all skin types and the application is done by vacuuming, so there will be no pain during the treatment. According to the needs of the skin, vacuuming process is made in a short time to reach to the lowest skin layer. Session times are determined according to skin needs and it lasts for 20-30 minutes.
The vortax technology used in HydraFacial system cleans dead cells and black spots on the skin by means of a vacuum head sprayed with pressure. Skin blemishes and fine lines of the skin can be treated with convenient serums.
HydraFacial system solves some health problems found below;
Treatment of pores
Blackhead cleaning and treatment
Hyperpigmentation
Oily skin
Skin moisturizing
Treatment of wrinkles and fine lines
Acne treatment
Stain treatment
Revitalisation of the skin
It can be applied to men and women at any age and even in the first session, visible results are obtained at all. Thanks to this method, the skin is cleansed deeply and smooth appearance is obtained like a baby skin. It is suitable for can all skin and it even includes sensitive skins too. 4-6 sessions at 1 week intervals are recommended for treatment. It provides deep cleansing durability to protect the vitality of the skin.
After HydraFacial, there is no special care for the skin. The face should not be washed the day after the procedure that is the only warning .There must be nothing on the face during a day and Daily life isn't affected negatively. HydraFacial provides solutions to all problems with a single treatment. This application is also safe and comfortable so there will be no irritation or fraying.