OxyGeneo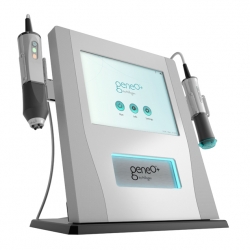 It is called OxyGeneo, is a method which offers 3 primary care in one time, which is separated from other skin care methods. This method provides the removal of dead cells in the skin and revitalization of the skin. It enables to have a smooth skin by providing the oxygen needed from the skin.
How Is OxyGeneo Application performed?
Oxygeneo application provides skin purification, nutrition, and oxygen demand, it is an improved method inspired by the treatment effect of thermal springs on human health. During the application the dead cells are removed from the skin and it provides oxygen delivery to the care area and thus establishes the ground for feeding the skin. The gel consists of the nutrients needed by the skin and it sends under the skin so renewal is provided. It can be applied to every skin type and can be used with many aesthetic applications.
What are OxyGeneo's formulas?
OxyGeneo is a method which offers 3 primary care provides in-depth care thanks to its rich formulas containing the nutrients needed by the skin. These formulas are divided into two groups: NeoRevive and NeoBright. NeoRevive provides optimal skin rejuvenation and anti-aging solutions. NeoBright is the formula that provides skin rejuvenation.
What are the effects of NeoRevive?
NeoRevive is a formula that eliminates the symptoms of aging and is opposed to these symptoms. This application smoothens the appearance of fine lines and wrinkles on the skin. Due to age progression and environmental pollution, By providing oxygen to pale and lifeless looking skin for the various reason, it makes it look vivacious, bright and natural. Thanks to its long-lasting effect, NeoRevive provides skin care and vitality without irritating the skin, makes it look younger and healthier.
In what circumstances is NeoBright effective?
NeoBright is an applied formula for the removal of stains and pigment problems. It provides to rejuvenate the skin. With this formula provides the oxygen that the skin needs, the skin gets bright without being irritated and free from dead cells. OxyGeneo is developed taking nutrients needed by the skin and also taking oxygen, it eliminates pain without skin irritation which is a method, offers 3 primary care in one timeThe skin, which loses its natural appearance due to environmental factors, gains brightness and naturalness.