Scarlet-S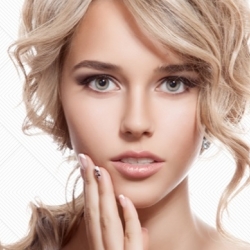 Scarlet-S is also known as gold frequency, creates non-surgical face lift effect stimulates collagen and elastin cells in the middle layer of the skin with micro needles. Specially designed gold needles help to relieves sagging and lighten wrinkles because of the energy emitted by radio frequency waves that stimulates the skin. Scarlet-S application goes under the skin, specially designed microneedles stimulate the surface the of the skin so the natural healing process starts.Because of the application, cell growth factors in the upper layer of the skin, acne scars, scars, wrinkles and spots are treated Scarlet-S is painless method that is possible to get great results even with a single session.
Usage Areas of Scarlet S
Skin Rejuvenation and Skin Resurfacing
Skin Tightening
Jawline Enhancement
Fine Wrinkle Treatment
Acne Scars, Keloid Treatment
Face Contouring
Skin stretching and lifting
Stain treatment
Body Tightening
Treatment of Sagging Arm
Balancing of sebum
Stretch Marks Treatment
This treatment method doesn't allow side effects,is extremely safe and effective.Specially designed micro-needles do not cause bad effects such as bruising, bleeding, and needle marking. The level of pain experienced by Scarlet S is minimal. Local anesthesia cream is applied to the patient 30 minutes ago and maximum comfort is given to the patient during the treatment.
Scarlet S Gold frequency is determined as 3 sessions and it is applied every 2-3 week. These sessions can be applied in different ways by the physician according to the patient's position and lasts in 20-40 minutes. Also, duration of the session ise determined depends on the patient or the disease. Effect of treatment is seen after the first session, also can be seen how the process is accelerating in the next sessions. After the treatment, the patient can return the daily life immediately. It is recommended to keep the skin moist and to use sunscreen only for mild redness after 1 or 2 hours.